35th Annual IPMA Conference & Expo
October 23-25, 2019 | Seattle, WA 
We are excited to be heading back to the Northwest this year for 35th Annual IPMA Conference and Expo in Seattle, Washington. IPMA is the International Practice Management Association is premier resource for information and education on the management of paralegals and other practice support professionals.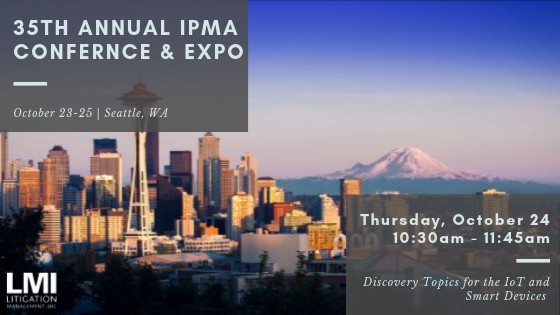 LMI is a proud sponsor of this year's conference. Megan Pizor, LMI's General Counsel, will be presenting a session on Discovery Topics for the IoT and Smart Devices. Be ahead of the curve and learn about the new frontier of IoT and smart devices, including privacy and security, IP considerations, and challenges - and opportunities - to expect in discovery. Be sure to hang around after the session to chat. Connect with Megan on LinkedIn before the conference. 

When: Thursday, October 24, 10:30 AM - 11:45 AM
Room: TBD
Follow us on Twitter and LinkedIn for updates throughout the conference. See you in Seattle!